Welcome to the Wiki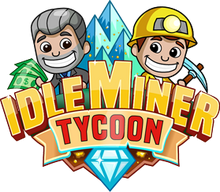 Welcome to the Idle Miner Tycoon Wiki, the site all about Fluffy Fairy Games' mobile game! Have you always dreamed of owning a mine? With Idle Miner Tycoon you can build your own mining company and become an industrial tycoon. Be part of an amazing community, learn more about the game and help editing this site!
Description & Facts
Become an industrial tycoon by managing your mine and your idle profit!  Expand your empire and give your economy a boost with specialized managers that will automate the workflow of your mine! Take on the challenge and discover the best mining strategy and earn as much cash as possible! 
Idle Miner Tycoon or IMT is a Free2Play mobile game for Android and iOS and is a prime example for an idle game. IMT was officially released on the 1st of July 2016 by Fluffy Fairy Games. The game gets updated every 1-2 weeks. Today (17.08.2017) IMT has more than 8.5 million downloads on iOS and Android.
The typical idle experience gets improved by a few different features:
Managers
Skill system
Collection feature
Prestige
Features
★ Automate your workflow to increase your idle income
★ Get idle cash, even when you are offline
★ Profit from a smart investment or two to boost your economy
★ Hire managers to increase your workers' motivation
★ Every manager has a special tycoon effect
★ Prestige feature
★ Manage up to 15 cool mines
★ Mine for 15 different resources: Including coal, gold, ruby, moonstone, amethyst, crystal, jade and many more!!!
★ No internet connection needed
Gameplay
At first the player starts of with a small mine and has to operate the miners by clicking. Soon one can hire managers to automate the workflow. There are different managers for different effects and the players can use KPIs and dashboards to invest smart.
As the game evolves the user will be able to grow his mine, hire more managers and upgrade the mines and the workers for maximum efficiency. This way the player can build new shafts and grow the business. By automating the workflow the miners will also work when the user is not actively playing, so you can earn cash while offline. The ultimate goal is to have the biggest and best profits for your mine.
By collecting more cash players can unlock mines and discover new places. The map contains three different continents that use a unique kind of cash and have entirely different looks and biomes. You can build mines on all three of them ! :)
These continents include:
Every continent also contains 5 different mines.
Community content is available under
CC-BY-SA
unless otherwise noted.